Zoe's Dance Moves was first released in 2003, then re-released as part of the 3-DVD set Get Ready to Dance and Move! in 2005.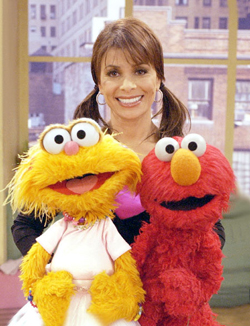 Zoe and Elmo are taking dance lessons, but Elmo forgets his dance shoes and went off to get them. When Zoe arrives, she found that she missed dance class, but the teacher, Paula Abdul, offers Zoe's help in choreographing a new dance move.

Through each dance moves, Zoe learns about certain dance moves from traditional ballet to hip hop dance. By the time Zoe and Paula Abdul finish creating their new dance moves, Elmo finds his dancing shoes and is ready to dance along with them.

It's a toe-tapping, finger-snapping good time when Paula Abdul gives Zoe her very first dance lesson! Get ready to dance!

Soon, Sesame Street's favorite ballerina is learning how to step with pep in a ballet warm-up, get the beat in her feet from an African drum, be grand with her hands in an Asian dance, and just have fun with Zoe's own Silly Willy Nilly dance.

And, that's not all! When Zoe's best friend Elmo joins in, everyone moves and grooves to a hip-hop, feel-good finale that will get you up and dancing along!

Show Segments
* Animation: Zoe narrates an animation of a ballet painting by Edgar Degas.

* Big Bird counts 6 "birds," himself and 3 dancers, Tarah, and Snuffy in bird ballet outfits.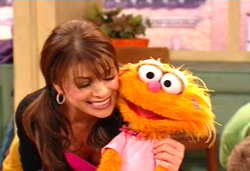 * Baby Tooth and the Funky Funk: Caribbean dance

* Film: Kids rehearse a large group African dance in the park, get their faces painted, and perform.

* Baby Tooth and the Funky Funk - Chinese dragon dance

* Animation: Hop, shake your head, and wriggle like an octopus

* Song: "Get On Up and Move Your Body"

* Cartoon: Noodles & Nedd: Nedd shows Noodles how to do a particular dance.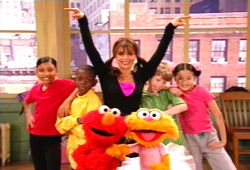 * Savion plays a rhyming game.

* Animation: Mannequins in a store window dance.

* Film: None, some and all of the dancers dance (Paula Abdul narrates different kinds of dance)

* Film: Bill Irwin Break Dances at Bus Stop (edited)

* Song: Dancin' Shoes (played over the credits)

Purchase a copy on Amazon.com on iTunes.