The X Factor is an American television music competition show to find the best new singing talent; the winner of which receives a $5 million recording contract with Epic Records. The first season began airing on Fox on September 21, 2011 and concluded December 22, 2011.


Based on the UK format, the competition consists of auditions, in front of producers and then the judges with a live audience; boot camp; judges' houses and then the live finals. Auditions for the show began in March 2011 and concluded in June 2011.

Season 1 of THE X FACTOR USA started off with a bang. The brand new U.S. reality showed featured four judges: Simon Cowell, Paula Abdul, L.A. Reid, and Nicole Scherzinger. These industry veterans searched the United States hitting up Los Angeles, Chicago, Newark, Miami, Dallas, and Seattle in search of the freshest talent in America. The show was hosted by Welsh TV presenter Steve Jones.

Out of the fray came 17 acts that made it to the finals. The acts were broken into four categories. Each category was mentored by one of the judges. Simon grabbed the Girls, L.A. Reid took the Boys, Nicole Scherzinger had the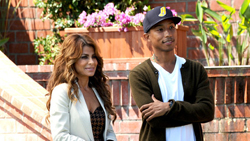 Over 30s, and Paula Abdul mentored the Groups.

Enrique Iglesias helped Scherzinger to pick her finalists in Malibu, California and Pharrell Williams acted as a guest judge helping Abdul to pick her finalists in Santa Barbara, California. Rihanna helped L.A. Reid choose his finalists in The Hamptons, New York. Mariah Carey was contracted to aid Cowell in France, but was unable to attend due to Hurricane Irene grounding her flight to Paris, so Cowell was instead assisted by three vocal coaches.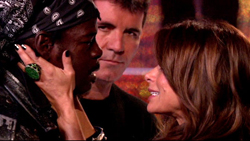 The finalists were as follows: In the boys category: Astro, Marcus Canty, Phillip Lomax, and Chris Rene. In the girls category: Melanie Amaro, Simone Battle, Rachel Crow, Drew, and Tiah Tolliver. In the Over 30s: LeRoy Bell, Stacy Francis, Dexter Haygood, and Josh Krajcik. In the Groups category: The Brewer Boys, InTENsity, LaKoda Rayne, and The Stereo Hogzz.

Chris Rene, Josh Krajcik, and Melanie Amaro were the only three acts standing at the end of live shows.

After the nationwide vote was counted it was revealed that Melanie Amaro had won the first X FACTOR title and Simon Cowell emerged as the winning mentor.