"Vibeology" was the fourth single from the Spellbound album, released in the US on January 16th 1992 and November 27, 1991 (UK). The song was written by Peter Lord; Sandra St. Victor and V. Jeffrey Smith. The song is one of her most memorable, sporting a jazzy/funk beat with irresistible bass loops.

The single reached number 16 on the Billboard Hot 100, becoming Abdul's first single not to make the Top 10 in the U.S. since the original release of "(It's Just) The Way That You Love Me" in 1988. Nevertheless, it still achieved considerable chart success, especially in the club charts where the single became a huge smash hit for Paula.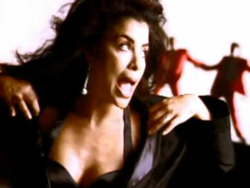 Outside the United States, "Vibeology" performed very well, hitting #19 in the United Kingdom helping the album "Spellbound" to re-enter the UK album chart's top 20. It also achieved significant success throughout Europe and in Japan (where it peaked at #3 on the international charts) and helped the aforementioned album to rebound on the charts (as the 3 subsequent singles to "Rush Rush" failed to achieve considerable success outside the United States).

The Vibeology single also achieved commercial success in Canada hitting #3 there and remaining for 27 weeks on the charts.

The video was filmed on December 10th, 1991 and was directed by
Stephen Wurnitzer for Squeak Pictures, Inc. with special thanks to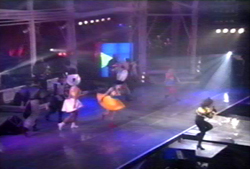 WOW World Entertainment Station.

A video edit of the song was used for the single and video release and omits the male "Unvibeolistic" speaking part in the middle of the song as well as the "Go Paula" breakdown at the end of the song before the chorus.

The "Keith Cohen's Vibe The House Mix" of Vibeology released on the cassette single includes an additional male speaking verse "Vibeology, it's good for the economy…" spoken by V. Jeffrey Smith.

At the time it debuted, the music video for "Vibeology" was the most requested video on MTV and VH1.

The video features Abdul and her dancers dancing in front of spotlights and red and white backdrops. During the chorus the word "Vibeology" scrolls across the screen with ghostly effects and at times Abdul herself is outlined with a white blur.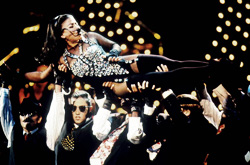 A second version of the video was re-edited with clips of Under My Spell rehearsals and used to cross-promote Paula's tour. The videos were never released commercially on VHS or DVD although the official video without the tour clips is available for download on iTunes.

Paula also performed this song at the 1992 MTV Video Music Awards and also on her "Under My Spell" tour. The outfit she wore to the MTV Music Award show is still talked about to this day... and Paula even made fun of the costume herself (calling her microphone a 'battery pack') during an appearance on the (then) late night talk show "The Arsenio Hall Show," hosted by her long-time friend Arsenio Hall.