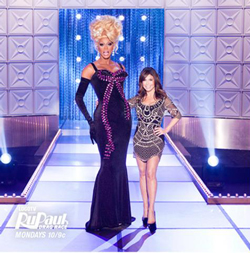 The sixth season of RuPaul's Drag Race began airing February 24, 2014 on LOGO TV. Like the fifth season, the 6th season features 14 contestants competing for the title of "America's Next Drag Superstar".

For the first time in the show's history, the season premiere was split into two episodes; the fourteen queens are split into two groups and compete against each other before being united as one group for the third episode.

Paula Abdul joined the legendary RuPaul, Michelle Visage and "Project Runway" designer Santino Rice on the judges' panel as the queens head down the runway. Fellow guest judges also included Chaz Bono and his grandmother (Cher's mom) Georgia Holt.

Paula Abdul appears in Episode Nine: "Drag Queens of Talk" which aired April 14, 2014.

This episode's challenge involved the queens channeling their inner talk show host by guest-hosting The RuPaul Show and interviewing Chaz Bono and Georgia Holt. The episode reunites Paula and "Idol" season 7 contestant Danny Noriega, a.k.a. season 6's very own Adore Delano.

During the main challenge, Adore's nerves got the better of her and she stumbled over her questions several times. Bianca gave a good interview but focused solely on Chaz and ran out of time before she could ask Georgia any questions.

Trinity interviewed next and also struggled, forgetting Chaz Bono's name and asking irrelevant questions. On the other hand, after asking Ru for advice earlier in the workroom, Courtney focused on being friendly and approachable which led her to give a charming and well done interview. Darienne also struggled with nerves but her fun personality carried her through.

Like Courtney, DeLa performed well in the interview, notably by combining both parts of her character and her own personality and doing her research. Joslyn was the last to interview and started strong before making Georgia uncomfortable by asking very personal questions.

For their main stage presentation, the queens were asked to channel their inner "animal". During the judges critiques, both Adore's outfit and her interview were criticized. Trinity also was called out for being nervous and calling Chaz the wrong name, when she was calling him Chad, but her outfit received acclaim. Joslyn became emotional when being confronted about her inappropriate questions and her heartfelt apology was appreciated by Georgia, who praised her performance before then. However, the judges criticized her outfit choice again.

Both Darienne and Bianca received mixed feedback, with Bianca noting her problems with time-keeping and Darienne being surprised when called out for her nerves during the challenge. On the other hand, DeLa was praised for stepping away from her character, becoming more endearing and doing her research, Ru declared Courtney the winner of the challenge for her strong performance.

Adore and Trinity were named as the bottom two and performed a high-energy lip-sync to "Vibeology" by Paula Abdul. Although both queens performed well, Ru saved Adore whilst asking Trinity to sashay away, but not before praising her for her progress during the competition.
Guest Judges: Chaz Bono, Georgia Holt & Paula Abdul

Mini-Challenge: "Hung Men" hangman challenge
Mini-Challenge Winner: BenDeLaCreme
Main Challenge: Guest hosting The RuPaul Show and interviewing celebrity guests
Challenge Winner: Courtney Act
Main Challenge Prize: Wig wardrobe from Outfiters Wig and a one-year haircare supply from Aquage
Bottom Two: Adore Delano & Trinity K. Bonet

Lip Synch Song: "Vibeology" by Paula Abdul
Eliminated: Trinity K. Bonet

Farewell message: "Be cool, Be nice, Be you. xoxo TKB"