Jan 1st, 2002



More Paula Please
Both off-Broadway and MTV are reaping the talents of Paula Abdul.

By Sara Jarrett

Issue: January 2002

Straight up one of the hottest musical icons from the '80s, Paula Abdul proves she's not just a hit-and-run.

The mastermind behind songs like "Cold Hearted" and "Forever Your Girl" will soon star as a cheerleading coach and former Dallas Cowboy cheerleader on MTV's upcoming show "Skirts."

The role isn't too far-fetched, considering Abdul really was a Laker Girl.

In fact, choreographing for the team was her launching pad to gigs with Janet Jackson and Duran Duran. And this is all before gleaning four number one singles from her debut album Forever Your Girl—the first recording artist ever to do so.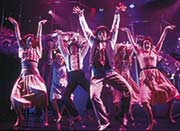 Reefer Madness, choreographed by Paula

Always a risk-taker, Abdul's choreography has just entered uncharted territory.

Her moves are smokin' in the off- Broadway musical Reefer Madness.

Though the topic of the show has raised a few eyebrows, its choreographic range, from "Thriller"-like zombie stumbling to showgirl strutting, is impressive.

Filed under: Broadway