Jun 10th, 2017



by Liz Calvario, ET Online

Paula Abdul has canceled her Saturday performance in Denver, Colorado, after suffering an injury.

The 54-year-old singer's reps confirmed to ET that she would be taking some time off to "rest and recover."

"Due to a temporary injury, Paula will be unable to perform at tonight's show in Denver, Colorado. After a short rest and recovery, Paula is excited to continue on the Total Package Tour as originally scheduled," the statement read. Sources tell ET that Abdul's injury is a strained muscle that makes dancing not possible and that she just needs rest.

Abdul, who is currently on the Total Package Tour with New Kids on the Block and Boyz II Men, also took to social media to thank her fans for understanding.

"Thank you to all my fans for your constant love & support. I treasure each & every one of you & I'm most grateful for your understanding," she tweeted. "I hope to come back to Denver soon, and will miss you while I recover. Love, Paula."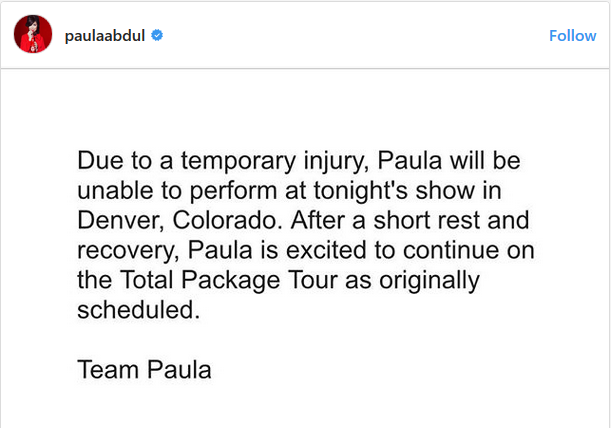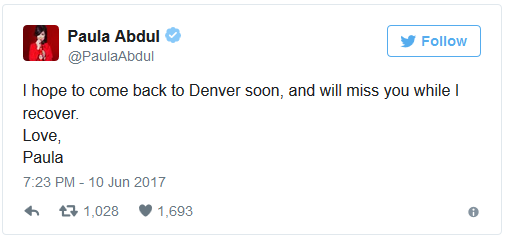 ET recently caught up with the "Straight Up" singer, who shared that she would be interested in being a part of the American Idol reboot, but not as a judge.

"I don't think I'd do the judging thing anymore," Abdul revealed. "But if they ever called me and they needed help or mentoring with kids, or anything like that, that's what I do, that's who I am."

Filed under: Health