Apr 20th, 2016



by Emily Longeretta, Hollywood Life
Are you a '90s kid? Get ready to feel all sorts of nostalgia at this year's Mixtape Festival. Yes that features Paula's return to the stage.
Mark your calendars. On August 6, 2016, Paula Abdul will make her big return to the stage at the fourth annual Mixtape Festival in Hershey, Pennsylvania. And she's not the only one. Dream, the girl band that hasn't performed since 2001 when they were on the TRL tour (!), will also join in. Additionally, this festival is known for its surprises, so you never know who could show up. See the full line up here.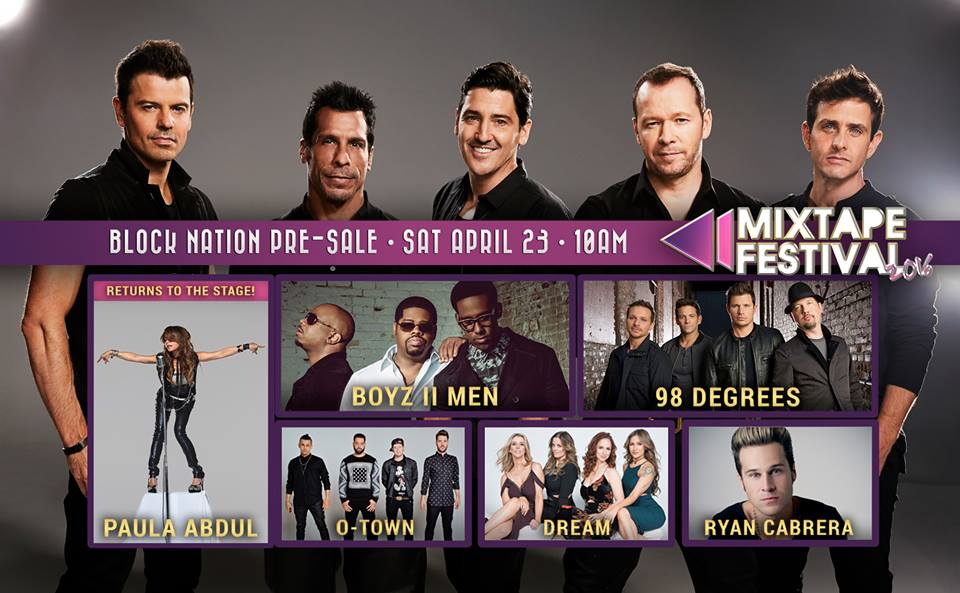 On April 20, Mixtape Fest announced its star-studded lineup also featuring New Kids on the Block, Boyz II Men, 98 Degrees, O-Town and Ryan Cabrera. Prior years has also reunited TLC after 11 years, and featured NKOTB's epic tour with BSB. So, Hershey Park Stadium is about to blow up with nostalgia. Basically, NKOTB and Paula headlining anything is everyone's dream, am I right? Also, I already have Dream's "He Loves U Not" in my head.

"It's not a summer in Hershey without Mixtape Festival," Geoff Gordon, Live Nation Philadelphia regional president, said in a statement. "And we worked hard so our fourth year continues in the traditions of an incredible line-up and amazing fan experiences set at a world-class entertainment complex."

New Kids on the Block members also added their excitement for their return. "Mixtape has become an annual summer tradition for us, and for so many pop music fans. We can't wait to be back on the Hershey Park stage for the fourth year. We've got a great show in store."

Tickets go on sale April 29 at 10 a.m. on Ticketmaster. Which act are you most excited to see? For more details, you can head to the official website.

Filed under: Music