Feb 12th, 2014



By Faygie Levy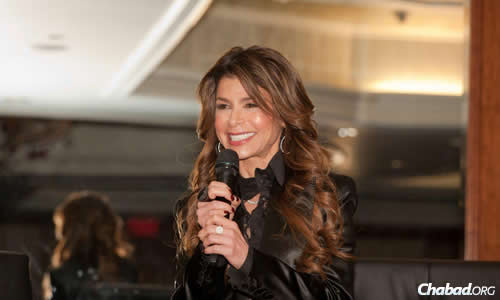 Paula Abdul addressed some 750 women on her childhood, career, personal encounter with Jewish tradition and her recent trip to Israel. (Photo: Robert Schneider)
For popular entertainer Paula Abdul, there could be no more fitting celebration of her personal "sense of rebirth" that comes from her connection to Jewish tradition than to be together with more than 750 women on the evening of Feb. 6, honoring the mitzvah of mikvah, and the laws and practice of Jewish family purity.

The daughter of a Syrian Jewish father and a Canadian Jewish mother, Abdul, 51, was raised in the San Fernando Valley in Los Angeles.

Dubbed "Dance, Pray, Live," Abdul—who was raised in a secular Jewish home and said she connects with her Judaism on many levels, including lighting Shabbat candles—was the headline speaker at this year's annual fundraising event to benefit Mikvah Chana in Livingston, N.J., about 20 miles outside of New York City. The community mikvah is run with the coordination of local residents and local Chabad shluchim, Rabbi Zalman and Toba Leah Grossbaum.

Previous speakers have included Mayim Bialik, child star of the film "Beaches" and the early 1990s TV show "Blossom," and adult actor in the popular TV sitcom "The Big Bang Theory"; and gymnast Aly Raisman, captain of the gold-medal-winning U.S. women's gymnastics team at the 2012 Summer Olympics, where she also earned individual gold and bronze medals.
'Integral Part of the Community'

"I always leave here as a wife feeling happy to fulfill this mitzvah," said Rachel Joffe, who lives in New York City. "You feel proud going to the mikvah," she said, noting the wide range of women from different backgrounds and observances who attended the event.

Attendee Aliza Feuerstein of Hillside, N.J., noted that the mivkah "is an integral part of the community, and financially, it needs our support."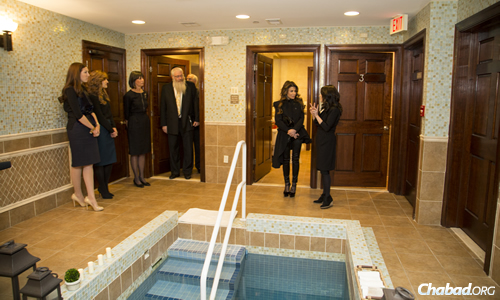 Community member Dara Orbach, mikvah attendant Chevy Kaplitt, community member Seryl Kushner, Rabbi Chaim Mentz, Paula Abdul and Chabad emissary Toba Leah Grossbaum at Mikvah Chana in Livingston, N.J. (Photo: Mendel Grossbaum)
But more than that, she continued, this event helps educate people who might not know about the ritual bath, which is so important to Jewish family life. "I know people who started using the mikvah because of this event."

The evening's presentation began with the recitation of tehillim, specifically Psalm 121. Everyone was asked to keep in mind those who might need a special prayer, such as the sick, women having trouble conceiving or individuals searching for their soul mates. Then a local resident, Jodi Rosenberg, spoke about how she came to a previous year's event, began keeping the laws of mikvah and how that has changed her life.

"When I go to the mikvah, it is my time to regroup, reflect and look ahead. I am a working mother of three girls with an hour commute each day. I have little time for myself," she said. "This is a time for me to connect to G‑d. The root of the Hebrew word for mikvah means 'place of hope.' When I immerse into the natural waters that G‑d has created, I feel a sense of rebirth."

Erica Green of Livingston said she didn't know much about the mikvah before she arrived, but joined the event with a group of friends to support the organization and hear from Abdul. "I had a really nice time," she said. "It's a little different for a girls' night out."

For Livingston's Pam Tepper, who has been attending the fundraiser for several years now, it is the "camaraderie of friends and the community of women" that brings her back. "There's a place and a need for women to organize and gather, and to be together and enjoy together. I think this might be one of their biggest turnouts."
'A Fighting Spirit'

For many in attendance, though, the highlight of the evening was singer, choreographer and TV personality Abdul, who talked about her childhood, career and recent trip to Israel.

Weighing less than 3 pounds when she was born, Abdul said that as a baby, "my lungs were just a blob and I had a broken windpipe, and every time I would cry, I'd faint."

The doctor, she said, called her a "medical miracle."

She told of braces on her legs growing up, and the fact that one foot is significantly shorter than the other. But, she said, "I had a fighting spirit from the time I born. My life's path, my destiny, my calling was never a Sunday walk in the park. … I gravitate toward things that were … near impossible."

Abdul was joined on stage by Rabbi Chaim Mentz, co-director with his wife, Charna, of Chabad of Bel Air, Calif. The rabbi noted that the Feb. 6 evening fundraiser coincided this year with 7 Adar on the Hebrew calendar—the day Moses was born, also prematurely, and the importance of everyone overcoming hardships during his or her lifetime.

Given her childhood history, it's understandable that Abdul is noted for her practice of always giving an encouraging word to others in her television roles. "My place was to bring light," she said.

To the standing-room-only crowd of women, Abdul continued: "We can rule the world ... we have to learn to work together, to support each other, to lift each other up." By doing so, she said, there could be a "universal shift toward kindness."

Of her time in Israel, Abdul said "it was one of my proudest moments. It was a love affair for me. I cried and did not want to leave."

There, she visited the Old City of Jerusalem—her favorite place, she said. She also relished the food and managed to eat her way through her travels, joking that she put on "nine pounds in 10 days."
For the women and girls of various backgrounds from across the state and beyond who attended, it was a night of friendship, inspiration, food and sisterhood. (Photo: Robert Schneider)

Abdul also spoke about Rabbi Mentz, whom she first met in 1990. "I would not have persevered … without this very special man," and whose family she said she adores.

The underlying reason everyone was present—to raise money for, and awareness of, the ritual bath—was not forgotten as Abdul, who had toured Mikvah Chana earlier in the day, told the crowd that it is a beautiful mikvah "where you can go and have blessings and pray. It's like a five-star spa. … It's lovely that in the Jewish religion, this is important."

"I urge you all to go," said the entertainer, who was getting on a plane the following day and heading Down Under, where she will be taping a new show. "When I come back from Australia, I want to come back and visit."

Filed under: Uncategorized