Mar 14th, 2007



Burning Questions with Paula Abdul

by Margy Rochlin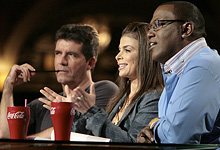 More than 30 million people watch her on American Idol every week, but who is Paula Abdul? Is she the 5-foot-2 nice Jewish girl from the San Fernando Valley who fulfilled her dream of becoming a Lakers cheerleader? Is she the Emmy-winning choreographer who also transformed herself into a Grammy-beknighted pop superstar back in the late '80s and early '90s? Is she the ex-Mrs. Emilio Estevez? Or is she the sweet yet sometimes nutty filling in a Randy Jackson-Simon Cowell sandwich?

As it turns out, Abdul, 44, is all these things (as well as a QVC maven, doting mom to several yappy chihuahuas and patron saint to all who need a hug). Recently, she spoke to TV Guide about pesky rumors, the logic behind her love-is-in-the-air judging style, why she keeps a camera at her bedside, and how her seemingly impromptu dances often have nothing to do with feeling the rhythm of the night.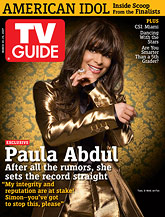 TV Guide: It's Season 6 of American Idol. Rate your performance as a judge.
Abdul: I feel like this is my best so far. I'm the one with the toughest job. I can't just say what I want. If anything, I hold back. I can't say, "You suck" or "You deserve to be on a cruise ship." It's not like I don't notice bad performances, I just wouldn't say those things. I come from a place of being a [solo] artist. Simon and Randy don't. They haven't a clue. They will never know what it's like to be like an open wound.

TV Guide: As the nice one, do you realize that when you register a negative opinion, it's especially devastating to a contestant?
Abdul: It's crushing. I feel really bad. I always hear they're destroyed backstage.

TV Guide: Do you agree with the way America votes?
Abdul: For the most part, America gets it right. People forget that no matter how many times someone hears, "See ya in the finals!" or "You're the one to beat!" that nobody's safe. Along the way, Simon might say something like, "Pack your bags — you're going home." Then people go and vote a hundred times for [contestants like] Scott Savol.

TV Guide: When contestants are singing, what's going on that the home viewer isn't seeing?
Abdul: Simon will do things that people have no idea about. If you see me dancing while Randy and Simon are sitting close together, it's because [Simon] has literally rolled back my chair, and he and Randy slide together so that I'm forced to be standing up, dancing. I don't get a moment to think of what I'm going to say for the critique. It's ridiculous.

TV Guide: You clearly put thought into what you wear on the show. Care to critique Simon's look?
Abdul: Simon has a wardrobe budget — I think that is the most hysterical thing. In his closet are Armani jeans and, like, 70 million light-gray to black T-shirts and sweaters. It's like he's in Catholic school. The best thing is, he's the one giving style tips to the kids. He's always telling girls [in a flat British accent], "I don't like what you're wearing" or "I think your belt is too high." Sometimes I'll go to him, "What's that on your neck? Oh, it's your belt."

TVGuide: Simon has often said that in the beginning there was a mutual attraction, but that he opted not to pursue it. True?
Abdul: Oh, puh-leez! He makes this stuff up.

For more on Paula Abdul, pick up the new issue of TV Guide, on sale Thursday.

Filed under: Uncategorized