Feb 13th, 2006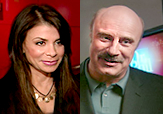 You might think it's tough finding a date for Valentine's Day when you're single and anonymous. But imagine the complications that arise when you're the star of one of TV's biggest smash hits, "American Idol."
"People assume that if you're a celebrity then it must be dates rolling on in," says "Idol" judge PAULA ABDUL. "It's not like that at all."
Tomorrow at 9 p.m. on CBS, Paula gets some help from life strategist DR. PHIL McGRAW as he sets her up on a few dates and helps the superstar navigate the singles scene in "A Dr. Phil Primetime Special: Love Smart."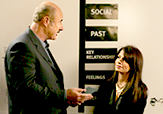 "I always tell people, 'You don't want to love dumb, you want to love smart,'" the life coach and best-selling author says. "Big difference between loving dumb and loving smart. This is a special that goes into the trenches about what that means."

Paula is a former Lakers Girl, a Grammy-winning singer and one of the hottest trio on FOX. So how could she possibly have trouble finding romance? "As far as my business goes, I'm thriving," she says, "and yet the only thing in my life that is missing that doesn't make any sense to me is the area of the love life."

As for dating in Hollywood, she says it was flattering early on when she began being recognized and movie stars started calling her for her number. But she soon found out "very quickly that they did want the girl who was on MTV, and the girl that wasn't that, they were no longer interested in."

Luckily Dr. Phil has assembled 10 hunky bachelors for Paula to choose from. Two of them get dates with the gorgeous gal. But did we mention the dates happen simultaneously?

"Let me tell you, she put on her track shoes -- in this instance -- bowling shoes," Dr. Phil says, "and we ran her between two different dates at one time doing what we call infrared dating: how to find out what you want to do right now so you don't waste time going down a dead end road."

To see if Paula made a love match, watch "A Dr. Phil Primetime Special: Love Smart" Tuesday at 9 p.m. on CBS. Dr. Phil's book, Love Smart: Find the One You Want, Fix the One You Got, is in stores now.

Courtesy of The Insider Online

Filed under: TV