In 1990 L.A. Gear had signed a endorsement deal with L.A. Gear to promote their shoes. In fact, Paula even had her own line of L.A. Gear shoes.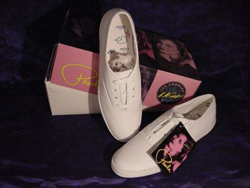 To promote the deal, L.A. Gear released a 1 track promotional CD featuring Paula Abdul titled "Medley Mix."

One track: "Medley Mix" (contains samples of: Straight Up, Knocked Out, Opposites Attract, Forever Your Girl, (It's Just) The Way That You Love Me and Cold Hearted).

Various print ads were used to promote the shoe line and Paula's affiliation with L.A. Gear.

Paula would later endorse Reebok.