Hey Paula is an American reality television series starring and co-produced by American television personality Paula Abdul that aired from June 28 to July 27, 2007, on the Bravo network . The 7 episode series was also broadcast in Britain on the ITV2 channel and Arena 105 in Australia.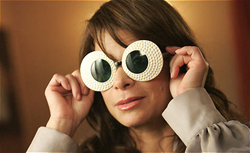 Behind the songs, behind the dance, the spotlight, and far away from Simon Cowell, there's the real woman behind the headlines – pop icon Paula Abdul.

"Hey Paula" provides an unfiltered, real-life look at the "American Idol" judge, entrepreneur, choreographer and multi-platinum artist, giving insight and context to Abdul's much-reported on professional and personal life.

"Hey Paula" paints a three-dimensional portrait of Abdul and her "Crazy Cool" world – from the stressed celebrity and tough business woman to the comedic prankster. Viewers see Abdul up close 24/7 as she battles insomnia during the much-talked-about "American Idol" satellite media tour interviews; bumps heads with QVC execs; develops her own fragrance and plays practical jokes on her assistants.

Through it all, Abdul has a knack for being able to laugh along the way.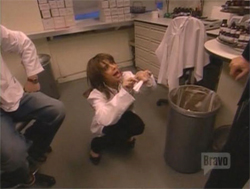 On her singing career, she quips, "Last time I had a hit record, Bill and Hillary were having sex...that's a long time ago." And Abdul jokes about Cowell with a QVC security guard, "If someone comes that has dark hair, that looks like Beavis and Butthead haircut and has a tight shirt...and he has a British accent, do not let him in."

Additionally, the seven-episode series features the posse of people essential in keeping the Abdul empire running smoothly. The "Hey Paula" players include Daniel, her hairstylist and BFF, who always promises a good time; Jeff, her longtime (and now former) publicist of seven years, who protects her like a sister; Kylie, her full-time wardrobe assistant, who keeps Abdul looking her best; and Abdul's kids...her four Chihuahuas – Bessie Moo, Chomps, Thumbelina and Tulip.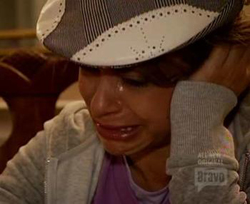 Abdul's persona on Hey Paula was considerably less genial than that of her established reputation as "the nice one" on American Idol. Abdul's behavior on the show, particularly toward her staff, was revealed to be less than exemplary.

She frequently dissolved into tears and childish tantrums over
seemingly inconsequential occurrences, and was even caught on
camera privately bemoaning being "...tired of people not treating
me like the gift that I am."

In spite of the tremendous success of American Idol, the ratings for
Hey Paula were reportedly low.

The show was generally panned by critics, even those who identified themselves as fans of Abdul's previous work. It became fodder for comedians, especially Kathy Griffin, who mocked Abdul's behavior in her stand-up act.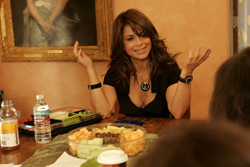 Abdul criticized the way the program's segments were edited. She explained, "That was hard for me to watch. Disturbing. They'd put a camera on me when I got wind that my dog was in a coma, and they'd make it (seem) like it was about hair and makeup."

During the filming of the series, Abdul was fired from the Bratz movie. Though her reaction to this was captured on camera, Abdul and her handlers subsequently denied the veracity of the segment, attributing Abdul's highly emotional on-camera break-down to "creative editing."

After the series premiere Abdul ultimately announced that she would
not be willing to participate in another similar reality series.

A song Paula recorded for her unreleased album, titled "Karma" was used as the theme song for "Hey Paula".
The song was not included as the theme on the digital release of the series and was replaced with generic instrumentation. "Karma" was written by Paula Abdul; Kara DioGuardi and Keith Lewis. Produced by Oliver Leiber and David Gamson. The full version still remains unreleased.