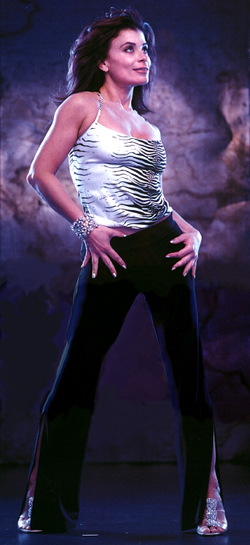 On September 26, 2000 Virgin Records released Paula Abdul's first "Greatest Hits" album.

The compilation contains Paula's six #1s and other singles, with the exception of the top 20 single "Will You Marry Me", which was released in 1992 and reached #19 on the Billboard charts.

The album includes "Crazy Love" which was previously only available on the Japanese release of "Head Over Heels" and not available in the US as well as "Bend Time Back Around" which was only previously available on the "Beverly Hills 90210 Soundtrack" originally released in 1992.

The 'hits' album also contains a brand new "Megamix" medley track which features Paula's greatest hits mixed into a dance track paying homage to Paula's "1990 Mix" on her "Shut Up And Dance" album.

Promotion for the album was primarily done on television through 30 second commercials.

Virgin Records also built a mini-web site showcasing many of Abdul's successful music videos, to promote the compilation album.

As of January 2006, the album has sold over 138,000 copies in the United States and approximately 2 million copies worldwide.

Rumors of a Greatest Hits album first circulated in 1997, when Paula went into the studio and recorded two new songs for a Hits album - including "Dancin' Machine", a remake of the Jackson 5 hit song, and "You've Got Me Wrong" (written by Peter Bliss and Jennifer Marks) and both songs were produced by Nile Rodgers. They were never officially released.

The album's release was delayed several times until it was released in 2000.