"Cold Hearted" is a single from Paula Abdul's album Forever Your Girl, written and produced by Elliot Wolff.
The song was co-produced by Keith "K.C." Cohen.

The song hit #1 on the Billboard Hot 100, becoming the album's third song to top the US chart.

"Cold Hearted" topped the Billboard Hot 100 chart for one week in September 1989, and ranked sixth in the
"Top 100 hits of 1989". It spent a total of eight weeks on the Billboard Top 10.

A "Cold Hearted" remix was the final UK release from Forever Your Girl in 1990. In the US and elsewhere, an edit of the album version was released instead. It charted on September 29,1990 at #55, and peaked at #46 the following week. The "Cold Hearted" remix was the follow-up to the Shep Pettibone remix of "Knocked Out" which had reached #21 three months previously.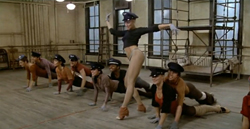 Growing up as a child Paula idolized people such as Gene Kelly and
Liza Minnelli. (She even met them as a child.) Another person who Paula idolized was the legendary choreographer Bob Fosse. Her inspiration for the "Cold Hearted" music video was from Bob Fosse's dance sequence "Erotica" in "All That Jazz". The video also depicts Paula making fun of record label executives. Fosse directed Broadway favorites such as "Cabaret", "All That Jazz" & "Sweet Charity."